Men of Faith Retreat
Men of Faith Retreat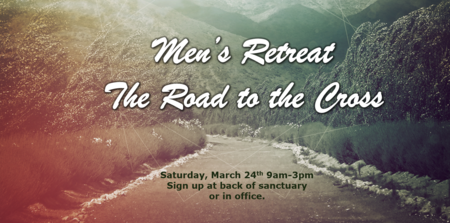 Men of Faith Gathering for a Men's Retreat!
Join us as we study "The Road to the Cross" on March 24th from 9am- 3pm at the Scout House,109 Ware Street, Peterborough.
All men of all faiths are welcome to attend. Bring a Friend.
We will be traveling the Road to the Cross. Join us for coffee and Muffins from 9 - 10 am. Our program will go from 10am-12pm.
Break for Lunch from 12-1:30pm - bring your own or grab something and bring it back and enjoy a time of fellowship and fun with all attending. Program continues from 1:30-3pm.
Please sign up on the sheet at the back of the sanctuary.
Ministry Men